Game Changing Z-Force® Power Pack
240+ km Range / 540,000+ km Lifetime
The 2015 Zero S and Zero SR feature advanced cell chemistry and battery management systems that provide greater capacity and range. Not only does the ZF12.5 power pack enable you to go beyond 240 km, it is also designed to last the life of the motorcycle. The result of cutting edge research and development, each cell in the power pack is individually controlled and monitored to ensure maximum health. The highly efficient onboard charger minimizes charge time and can work in parallel with Zero's scalable off-board charging systems. What does this mean? Simply put, the Zero S and Zero SR are leaders in acceleration, range and longevity for production electric motorcycles.
View Details
Available in two configurations: ZF9.4 (182 km) and ZF12.5 (243 km)
Compatible with the Power Tank accessory which adds 2.8 kWh of power pack capacity to the motorcycle for a city range of up to 298 km
State-of-the-art 102 volt power pack configurations and cell chemistry

Cells last 2,500 full charge-discharge cycles before hitting 80% capacity, yielding as much as 546,000 km on the original power pack
High energy density yields significant range and performance advantages
Elegant low resistance and highly robust cell interconnect technology

Advanced battery management system with enhanced 24/7 cell monitoring
Scalable off-board charging options available to reduce recharge times (see specs for details)
Isolated power systems and 12 volt system for running accessories
Onboard charger uses a specially developed and optimized charge profile
New Power Tank Technology

Up to 298 km in the City

The Z-Force® Power Tank adds 2.8 kWh of power pack storage capacity to any 2015 Zero S or Zero SR. An optional accessory, the Power Tank can be added at any time during or after motorcycle purchase, bringing the maximum battery capacity to 15.3 kWh. With that much energy, you can expect to travel up to 298 km in the city or 151 km on the highway.

View Details

Extend the range of any 2015 Zero S or Zero SR model with an additional 2.8 kWh
The Power Tank can be added at any time before or after purchase
Can be installed quickly at Zero Motorcycles authorized dealerships
Includes new bodywork in the tank section of the motorcycle
Replaces the tank bag area of the motorcycle
Revolutionary Z-Force® Motor

Up to 67 hp (50 kW), 144 Nm… and incredibly efficient

Zero Motorcycles designed the Z-Force® motor from the ground up to be compact, efficient and powerful. It provides you with exhilarating acceleration to a top speed of 164 km/h as configured in the Zero SR. Completely air-cooled, the motor is designed to provide a fantastic riding experience minus the need for any regular maintenance. When slowing down, the motor generates electricity that is channeled back into the power pack to help extend ride times.

View Details

Designed from the ground up by Zero Motorcycles to be the world's most efficient, powerful, compact, brushless and sealed air-cooled motor
Produces up to 67 hp (50 kW), 144 Nm of torque as configured in the Zero SR
Requires no routine maintenance
Operates with such high efficiency that it does not require any complex cooling system
Quad-level regenerative system recharges the power pack when decelerating

Re-gen level is increased during brake application vs. "neutral" deceleration
Both braking and "neutral" re-gen levels are set higher in Eco vs. Sport mode
"Custom" mode performance profile can be set using the Zero Motorcycles App

Increased available torque on the Zero SR and a broad power band for impressive acceleration
Zero SR model contains high temperature magnets for better performance at very high sustained top speeds
Frame and Bodywork

Great to look at. Even better to ride.

Aircraft grade aluminum is exclusively used in the construction of the twin spar frame on the Zero S and Zero SR. It is lightweight, strong and one of the main reasons that the motorcycles handle incredibly well. Designed to have a low center of gravity, the motorcycles are highly maneuverable and responsive. The refined appearance is completed with sleek bodywork with a contemporary, aggressive and naked look. The 'tank' section of the bodywork features an integrated storage compartment that is both lockable and removable. The tank section can also be replaced with the Power Tank accessory for an additional 2.8 kWh of power pack capacity.

View Details

Beautifully sculpted bodywork and chin fairing provides improved cooling of the powertrain
Integrated, lockable and removable storage compartment
Extremely rigid and lightweight black twin spar aircraft grade aluminum frame
Designed to have a low center of gravity for better maneuverability and responsiveness
Sleek headlight and LED tail light
The headlight, dash, key switch and bodywork are refined to provide elegant instrumentation and a sleek front end aesthetic
Integrated Power Tank frame structure stiffens the frame
Showa Suspension

The Magic Ride

Zero worked in close collaboration with Showa to develop suspension systems that provide excellent small bump compliance, predictable control of bigger impacts and exceptionally smooth action under all conditions. Torsional rigidity of the front end improves handling, and a hollow front axle reduces unsprung weight. Suspension settings are completely customizable to meet the demands of a wide variety of riders.

View Details

Exceptionally smooth action for improved comfort and control
Fully adjustable settings to meet the demands of a wide variety of riders
Hollow front axle reduces unsprung weight
Developed in close collaboration with Showa
Bosch Anti-Lock Brake System (ABS)
Powerful. Precise. Control.
The Zero S and Zero SR feature an advanced Bosch anti-lock brake system (ABS) that improves control in a wide array of conditions and ensures the best braking performance, while a large 320 mm diameter carrier-less rotor increases stopping power.
View Details
Advanced Bosch ABS is standard
ABS can be switched on or off depending on rider preference
Incredibly smooth actuation for greater control under extreme braking
Large 320 mm diameter carrier-less front rotor increases stopping power
Refined hydraulic ratios improve braking power and modulation
Adjustable front brake lever for customizable ergonomics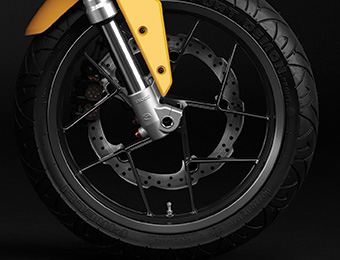 Wheels and Tires
Rolling Forward
Pirelli tires are standard on the Zero S and Zero SR, providing great traction, excellent durability and road feel. The tires are mounted to stylish cast alloy wheels that feature durable wheel bearings.
View Details
Stylish cast alloy wheels are equipped with a large carrier-less front rotor to reduce unsprung weight and increase stopping power
The Zero S features high performance Pirelli Sport Demon tires combining excellent grip with long lasting mileage
The Zero SR features softer compound Pirelli Diablo Rosso II tires for even greater traction
Large, high-capacity wheel bearings increase stiffness, versatility and durability
Dash and Controls
Impressive information. Elegantly Displayed.
The dash is designed by Zero to quickly and accurately provide useful data on such information as state of charge, power output and your selected riding profile. You can toggle through three riding profiles, using the ergonomic right-hand switch gear, to better meet the needs of your ride: Sport, Eco, Custom. The dash screen features a cool blue backlit LCD display and integrates seamlessly into the front of the motorcycle. Want more information about the motorcycle while riding or at home? Try the Zero Motorcycles App.
View Details
High contrast and blue backlit LCD screen features data that allows you to better understand your state of charge, see your current riding profile and view other useful riding information
Ergonomic right-hand switch assembly with integrated switch to toggle on the fly between Sport, Eco and Custom riding modes
Custom riding mode setting allows you to set your own performance profile (custom mode performance profile must be configured within the Zero Motorcycles App)
High intensity headlight
Keyed ignition switch and steering lock for improved security and peace of mind
Beautifully designed and comfortable two-up seat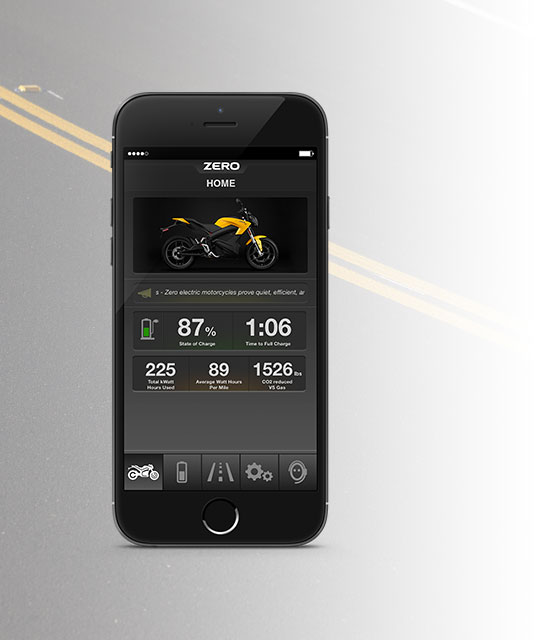 Zero Motorcycles App

Get your Motorcycle Dialed

Using the Zero Motorcycles App, you can see detailed information about your motorcycle such as the time until charged, average watts per kilometer, total charge cycles and much more. When parked, the app allows you to set the custom riding mode's performance profile by adjusting the parameters for top speed, maximum torque and maximum regenerative braking. While riding, your phone transforms into a customized dash that provides detailed real-time motorcycle information. Synced using Bluetooth, the app works on iPhone and Android mobile devices. The app is available in English, German, French, Spanish and Dutch.

View Details

Bluetooth enabled connectivity for both iPhone and Android mobile devices
Adjust your custom riding mode's performance characteristics to meet your particular riding needs with a few swipes of your finger
Customizable display reports the information that interests you most
Direct Drive Gearing

Instant torque with a twist

Featuring clutchless direct drive, the Zero S is geared for rapid acceleration and maximum efficiency. With its higher output motor, the Zero SR takes advantage of taller gearing to achieve a top speed in excess of 160 km/h. Without ever needing to shift, both models provide controlled and powerful acceleration until you reach your desired speed. The carbon fiber belt achieves minimal frictional losses for increased overall range and is integral to making the powertrain maintenance-free.

View Details

Sophisticatedly simple "just ride" direct-drive system means no clutch, no shifting and no need to carry a heavy and complex transmission
Maintenance-free and virtually silent belt drive system
Clutchless single speed simplifies operation
Geared for rapid acceleration and maximum efficiency
Adjustable rear axle to modify belt tension
Charge Anywhere

Plug in at any standard outlet

The Zero S and Zero SR charging system is integrated into the motorcycle and can be plugged in at any standard outlet. No additional equipment is required for standard charging. This allows you to conveniently charge in your garage, at the office or when you stop at one of your favorite places while enjoying a day out. Charging times can be reduced by up to ~75% by using our scalable off-board charging system.*

*Requires optional accessories. Please see your Zero Motorcycles dealer.